Qui utilise SendPulse ?
Blogueurs, vente au détail e-commerce, tourisme, banques, petites et moyennes entreprises.
Description de SendPulse
SendPulse est une plateforme de messagerie intégrée dotée d'un système "d'intelligence artificielle" et utilisant la personnalisation pour les agents de service client et permettre aux utilisateurs de communiquer avec tout appareil par e-mail, SMS, web push, SMTP, etc. Les clients utilisant SendPulse al connaissent régulièrement 50% à 100% d'augmentation de l'engagement, y compris pour les taux de clics, les pages vues, le temps passé sur le site et les conversions.
Informations sur SendPulse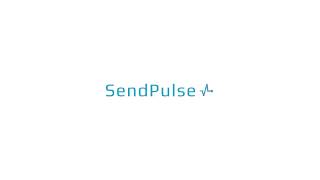 Play
Présentation des tarifs de SendPulse
SendPulse est disponible en version gratuite et propose un essai gratuit. La version payante de SendPulse est disponible à partir de 9,00 $US/mois.
---
Déploiement et prise en charge de SendPulse
Ressources d'aide
Service de support permanent (réponse directe)
En ligne
Formation
Formation en ligne en direct
Webinaires
Documentation
SendPulse - Fonctionnalités
Base de données de contacts
Contenu dynamique
Gestion des listes
Gestion des modèles
Rapports et analyses
Suivi des e-mails
Tests A/B
Vérification antispam
Bibliothèque d'images
Campagnes de drip marketing
Conformité CAN SPAM
Contenu dynamique
E-mail découlant d'un événement
E-mails optimisés pour format mobile
Enquêtes clients
Gestion des abonnés
Gestion des listes
Gestion des modèles
Pages de renvoi et formulaires web
Rapports et analyses
Répondeurs automatiques
Tests A/B
Éditeur d'e-mail WYSIWYG
Analytique
Ciblage contextuel
Ciblage des appareils
Ciblage géographique
Notifications d'expiration
Notifications mobiles
Notifications visuelles
Notifications web
Planification des notifications
Segmentation des campagnes
Tests A/B
---
Note moyenne
Facilité d'utilisation
4,2
---
Évaluer le logiciel
Partagez vos expériences avec d'autres acheteurs de logiciels.
Écrivez votre avis !
Zachariah K.
Editor
Temps d'utilisation du produit: plus d'un an
Note globale

Facilité d'utilisation

Fonctionnalités

Support client

Rapport qualité-prix

Probabilité de recommander le produit
Source de l'avis

Publié le 25/04/2018
"SendPulse fits our needs for bulk mailing to our many thousands of readers of our magazine."
Commentaires: The ability to send thousands of emails in one go. It helps manage campaigns to all our subscribers readers. We also get to use it to send messages to select smaller subgroups of our readers and subscribers or even our advertisers (in some cases).
Avantages: The User Interface UI is fairly neat and tidy. The buttons and controls are fairly easy to figure out even without a walkthrough or guide. The software allows you to send a huge number of emails (to clean email addresses) with ease. They maintain a high level of integrity with regard to not sending spam (to protect themselves and yourself). Their support staff are polite and pretty prompt in dealing with queries and complaints. They tend to offer solutions where possible. (For example, we had a mailing list that we had built over several years which had older addresses which had lapsed and expired and changed. When we tried to launch a campaign to those addresses many bounced back and they shut down the campaign midway. Initially, we were disappointed and irritated but after getting to chat with the support team we were offered good advice on cleaning our list. )
Inconvénients: It would be good to have an email cleaner built into the software rather than having to use an external service. I hate to pay for anything but sometimes you have to. In the case of SendPulse i got a good deal on a special and am happy with the price i pay. Those using the software can control their budget and choose packages that suit their pocket but be aware that there are cos
Source de l'avis

Publié le 25/04/2018
Eduardo B.
CEO
Marketing et publicité, 201-500 employés
Temps d'utilisation du produit: plus d'un an
Note globale

Facilité d'utilisation

Fonctionnalités

Support client

Rapport qualité-prix

Probabilité de recommander le produit
Source de l'avis

Publié le 15/01/2020
"SENDPULSE REVIEW"
Commentaires: IT IS GOOD AND I WILL START USING MY OWN NEW DOMAIN AND I WILL START PAYING A PLAN FROM YOU GUYS EVERY WEEK I HAD REFERRED YOUR COMPANY TO OVER 300 NEW USERS FOR THE LAST 2 YEARS
Avantages: IT IS USER FRIENDLY AND FAST AND YOUR CUSTOMER SERVICE IS GOOD AND THEY ANSWER FAST WITH A GOOD HELP ALWAYS... I LIKE YOUR SYSTEM BECAUSE YOU ARE NOT PUTTING TOO ISSUES IN ORDER TO SEND E-MAILS AS THE OTHER COMPANIES
Inconvénients: WELL WHEN I PUT ALL MY CONTACTS FROM MY LIST YOU ALWAYS BLOCK MANY OF THEM AND YOU PUT IT AS ERROR BUT ALL OF MY CONTACTS THEY SUBSDRIBED IN OUR WEBSITE AND THEY ARE INTERESTED ON GEETING OUR E-MAILS
Source de l'avis

Publié le 15/01/2020
Kristen C.
Society Curator
Rédaction et correction, 2-10 employés
Temps d'utilisation du produit: 6 à 12 mois
Note globale

Facilité d'utilisation

Fonctionnalités

Support client

Rapport qualité-prix

Probabilité de recommander le produit
Source de l'avis

Publié le 19/11/2020
"Great for businesses just starting out"
Commentaires: I really haven't had any negative experiences with SendPulse, other than some minor complaints detailed in the "Cons" section of my review. They've been very helpful and friendly in fixing any issues I've had, and overall I've enjoyed working with this software.
Avantages: I like the fact that it's inexpensive/free to use for most business owners with a small contact list. Most email marketing sites offer a pretty pitiful number of contacts/email campaigns for their free trials, and then hike the price up significantly for those who are in between just starting out and having a huge following. They don't have a lot in the way of ready-made templates, but it's easy enough to customize your own, and their interface is pretty user-friendly.
Inconvénients: It can take a considerable amount of time between sending an email campaign, and the delivery of said email campaign. I also don't like that, after going through the proper steps to make my newsletters comply with standards, I may still be regarded as spam and not be delivered to the inbox of the person receiving the newsletter.
Source de l'avis

Publié le 19/11/2020
Utilisateur vérifié
Consultant
Conseil en gestion, 51-200 employés
Temps d'utilisation du produit: 1 à 5 mois
Note globale

Facilité d'utilisation

Fonctionnalités

Support client

Rapport qualité-prix

Probabilité de recommander le produit
Source de l'avis

Source : GetApp
Publié le 13/09/2016
"Good but API is hard work"
Commentaires: So – I am going to caveat this whole thing with – if you're not interested in using the API or you are not coming from another service with an existing API integration, this probably won't apply to you. Summary: 2 different API's, both awfully designed, both poorly documented, both with completely different authentication methods, credentials etc. however, the application itself is great, so if you're not using the API, it's probably fine. Full Review: SendPulse has a functional API, but it feels like it was created by someone that read a REST API book of best practices without really thinking about how people would / should use it. My biggest problem is the way authentication works (on the main API which is for sending your campaigns, managing subscriptions etc.), sure it follows all OAUTH standards, but this means you need to manage identify on your application so you send all the correct tokens etc., it feels very Salesforce, not Slack (if you have used either of these API's you will know, Slack is easy, Salesforce is really really hard) – another comparison would be that it feels like IBM made this software when you are using the API, not a start-up. If you are coming from something like MailChimp – the MailChimp API is easy, send a request with your API key and whatever you are requesting happens or you get a meaningful response, I have seen many garbage responses from the SendPulse API – you cannot guarantee JSON will come back, sometimes you get HTML, sometimes you get a weird HTML 404 page with some Yahoo copyright notices all over it, it all depends on how mangled your request is – so on top of having to worry about handling identity, you need to handle all sorts of strange responses not just JSON – and therein lies the next problem – DOCUMENTATION: The API documentation is god-damn-awful, and because the API is quite complex and / or obscure in terms of how you request stuff, you often end up with garbage responses and have to trial-and-error how stuff works. SendPulse has created a bunch of libraries to make this easier, and if you want to hang your PHP application by using their library, then go ahead – but if you have some kind of background task manager you will probably have to write your own stuff, which in most cases would not be too hard, but because the documentation is sparse, I really struggled to do even the basic stuff with CURL on the command line – if I was to suggest anything, provide CURL examples like Slack does, at least that way I could reverse engineer the CURL to sort out the lack of actual documentation (again, it's a problem because the API responds with junk HTML if you get your request wrong so you don't know what is actually wrong and have to trial-and-error a lot). On top of all of this, if you are planning on using the SMTP send-alone API, you have a completely different authentication process – one that I still have no idea how to make work – this is what the documentation says about how to authenticate: http://i.imgur.com/sVAc3II.png (the original documentation is here, but I think you need to be logged in to view it: https://login.sendpulse.com/manual/smtp-api/) I personally have no idea how to authenticate against this SMTP API. I have not yet asked support about it because they are looking at something else for me that is more important, but I just don't…….. what….. from the documentation (a required parameter to authenticate, IV): "iv – an initialization vector, encrypted by a public key with an OpenSSL Library usage" – what is this? Why is it never mentioned again? how do I get it? And most importantly, why on earth is it different to the (already convoluted) other OAUTH authentication on the main mail API? Anyway, to wrap this up, I picked up SendPulse because I needed both templated / campaign based email and SMTP / transactional email and I previously had MailChimp, but did not want to pay for Mandrill because my SMTP volumes were super low. SendPulse is fine, but I have wasted more time than the money I would have saved just using Mandril, however if you can get over all of this, the product is actually pretty good which is why I have not left a steamer of a review score, and as I said at the start, if you are not using the API it is great. I just hope they release a new version of the API that focuses on functionality rather than horrible REST standards (although I'm not convinced all of this is standards compliant), which I think have generally been thrown away by the new-wave tech start-ups so people can quickly deliver value.
Avantages: Price
Web Interface
Email Builder
Inconvénients: API
Can't use Email Builder emails in the SMTP email interface
Source de l'avis

Source : GetApp
Publié le 13/09/2016
Alonso S.
Gerente
Logiciels, 2-10 employés
Temps d'utilisation du produit: plus de deux ans
Note globale

Facilité d'utilisation

Fonctionnalités

Support client

Rapport qualité-prix

Probabilité de recommander le produit
Source de l'avis

Publié le 20/10/2020
"Reseña"
Commentaires: Se envia la facturacion electronica de nuestros clientes
Avantages: La estabilidad de la plataforma es correcta
Inconvénients: Soporte técnico es problemático se debe estar haciendo traducciones para enviar la informacion porque sino lo dejan a uno dias y dias sin respuesta, en las traducciones la mayoría de veces no entienden bien el problema y en general no tienen un soporte adecuado para latino america ya que por lo que he visto dependen de soporte de otras zonas de diferente lenguaje
Réponse de l'éditeur
envoyé par SendPulse le 03/11/2020
Hola Alonso, gracias por escribirnos y por tus buenas ountuaciones en practicamente todas las areas, a excepcion de soporte y por lo cual, estoy aqui para entender cuales han sido tus dudas y dificultades. Te hago llegar con este mensaje mi direccion de correo electronico, ayudame por favor reenviandome tu historial para analizarlo y ver de que manera podemos mejorar tu experiencia.
Que tengas buen dia, quedo a la espera de tu correo.
Ramiro Covarrubias
MKT Mgr
SendPulse Latam
Source de l'avis

Publié le 20/10/2020